Bhubaneswar: A thick blanket of security will be in place during the observance of the 48-hour weekend shutdown in the twin cities of Cuttack and Bhubaneswar starting from tomorrow, said Police Commissioner Saumendra Priyadarshi on Friday.
Priyadarshi said 32 platoons of police force, including 12 in Cuttack and 20 platoons in Bhubaneswar will be deployed to ensure strict compliance of the shutdown norms.
As many as 350 officers (100 officers in Cuttack, 150 in Bhubaneswar) will supervise the overall arrangements and compliance during the weekend shutdown which will come into effect after expiry of the overnight curfew restrictions at 5 am tomorrow.
"(To)night curfew restrictions will expire at 5 am on Saturday. The State government today has allotted one-hour relaxation (5 am to 6 am on Saturdays, Sundays) during the weekend shutdowns for physical/ fitness activities like morning walk, jogging and cycling," said Priyadarshi.

Capital Region Urban Transport@CRUT_BBSR·
𝐍𝐎𝐓𝐈𝐂𝐄 Regular #MoBus
service will remain suspended on weekend. To facilitate the movement of incoming passengers bus service will be provided for Cuttack & Khurdha from Railway Station.Shuttle service will be available from Airport to Railway Station.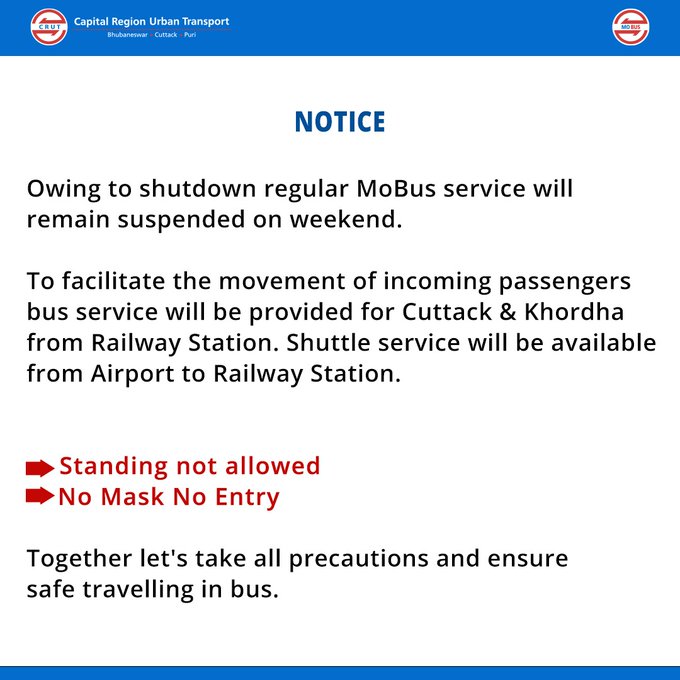 No passes will be issued for those engaged in emergency services. Only the valid identity cards of the approved employees will be checked by the police personnel who will be deployed at various checkpoints.
Priyadarshi informed that as many as 63 check points including 25 points and Cuttack and 43 in Bhubaneswar have been set up for enforcing the shutdown movement regulations.
thanks