Bhubaneswar: A beneficiary under Bhubaneswar Municipal Corporation (BMC) may be deprived of Covid-19 vaccine shot if he doesn't register himself/herself on government portal (Co-Win App) during the third phase inoculation drive.
Addressing a media conference, BMC commissioner Prem Chandra Choudhury today said that the beneficiaries especially in the age group of 18-44 years should first register themselves on the government portal and get their slots in order to avoid unnecessary crowd at vaccination centre.
"Slot booking on Co-win portal will begin from this evening. I request all the beneficiaries to avoid visiting vaccination centre without registration. We can't vaccinate anyone if he/she doesn't register on the portal," he added.
"We are trying to give maximum slots at government vaccination centre as we have no scarcity of vaccines in Bhubaneswar," he pointed out.
Inoculation for the beneficiaries above 45 will also be held simultaneously, but, their slots and timing will be different, he added.
As per the government instruction, the civic body today rolled out the vaccination programme for all above 18 years today in a symbolic manner. Massive inoculation drive will be launched from Monday, Choudhury informed.
Bhubaneswar has as many as 7,588 active Covid-19 cases in the civic body area till today. The city also continues to witness around 1000 daily fresh cases.
"Over 3,500 beds are available in Bhubaneswar at different treatment facilities. Out of which 531 are ICU beds and 836 HDU beds. Around 90 % of ICU and 50% of HDU beds have been occupied till today", the commissioner said.
As many as 2,186 general beds having oxygen facilities are available in Bhubaneswar, out of which 50 % have been used, he added.
Citizens of Bhubaneswar of 18-44 Age group can now register for slots in below-mentioned Govt. Hospitals. Visit either of the websites for registration & appointment for vaccination https://cowin.gov.inhttps://selfregistration.cowin.gov.in#LargestVaccinationDrive#BbsrFightsCOVID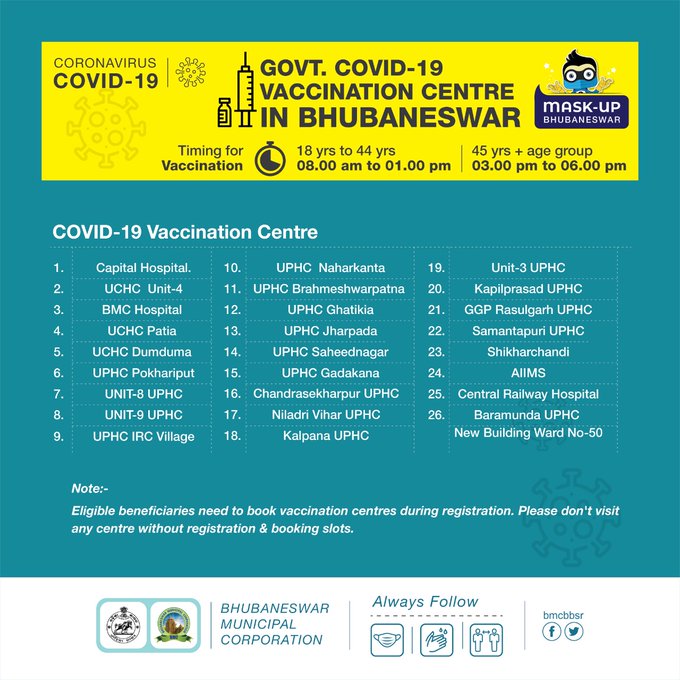 Patients under home isolation are being provided with treatment and medical advice by the RRD via video link, Choudhury informed.
The BMC has issued a dedicated Helpline number (1929). "We are getting grievances from the people and providing treatment and necessary medical assistance accordingly," he added.
Thanks….